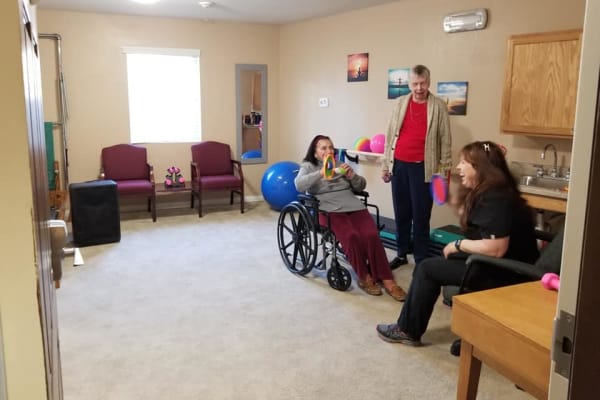 Jayne Watson – Administrator
Jayne started her senior living career as the Business Office Director at Chateau Brickyard Senior Living. Prior to working in senior living, she spent over 20 in years in the Hospitality industry working in Sales and Marketing and the as a General Manager of hotels. Jayne moved to Utah to assist with the care of her own mother and special needs brother in summer 2022. She has been the Administrator at The Peaks at Millcreek since her move to Utah. Jayne has two beautiful children who are her whole life. Her happy place is anywhere with her family or reading a book by the fire. Her hobbies include reading, baking, hiking, and traveling. Jayne is happiest when she is hanging out with family and friends.
Wendy Yancey – Marketing Director
Wendy began her career in credit and finance over 30 years ago. She took a long break from the workforce to raise her 4 children. One wonderful daughter and three amazing young men. While raising her children, she became caretaker to her grandmother, 2 uncles and an elderly friend. This is where she realized her passion for serving and working with the senior community. She has been working for The Peaks at Millcreek for 3 ½ years and has grown to love this community, the residents, and her co-workers. Wendy's enjoys spending time with her family, socializing, crafts, traveling, watching movies and spending time in nature.
Andrea Beecher – Active Living Program Director
Andrea has a passion for serving and caring for people. She has five years of experience working in the senior living industry. She has a 7-year-old boy who is the joy of her life. She attended the Catholic University of Colombia where she studied Law and Technology. She also worked as a Medical Assistant in Miami. When Andrea is not working, she enjoys dance, music, poetry, and cooking. She feels blessed to be here at The Peaks at Millcreek surrounded by amazing people!
Jerzy Czerkun – Maintenance Director
Jerzy graduated from ITT Technical Institute in Salt Lake City, Utah. He has more than 30 years of experience in management and maintenance with industrial and residential companies. He has also owned Quiznos franchises. Jerzy has worked at many independent and assisted living facilities and finds job satisfaction in seeing the resident's maintenance needs taken care of the same as he does for his own family.Jerzys hobbies are working on home improvement projects and watching tv shows about how things work.
Naomi Scherette – Business Office Director
Naomi is a west coast native with strong roots in SW Washington. She started her career in Food and Service which led her into management, teaching her many useful skills. After moving to Utah, she decided to make the transition into Senior Living to have a career with more focus on care and community and hasn't looked back since. Naomi has a fur baby, Honey, an energetic 6-year-old Golden. Outside of work Naomi enjoys baking, thrifting, and patio sitting with a good book.
Matt Thompson – Executive Chef
Matt fell in love cooking for the assisted living industry 5 years ago here in Salt Lake City, UT. He also has 25 years of prior restaurant cooking and management experience ranging from casual to fine dining in three different States including Utah, Tennessee, and Florida. Spending time talking with residents about food, recipes, and ways to better their dining experience is something he's very passionate about. He lives in Cottonwood Heights and has a 5-year-old Schnauzer named Reicher who is a certified search and rescue animal.